Email lists
---
To join our email list send an email to listserv@fnal.gov. Leave the subject line blank, and type:
SUBSCRIBE test_beam First Last
in the body, where your first name and last name replaces First Last respectively.


Other lists you may use:
Facility extensions
---
Phones with speaker capabilities are located throughout the facility. x2459 rings throughout the facility.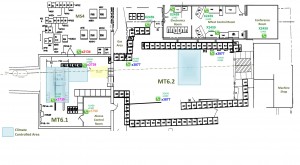 | | |
| --- | --- |
| MTest Control Room | x2459 |
| MT6 Section 2 Enclosure | x3877 |
| MT6 Section 1 Enclosure | x3739 |
| Alcove Control Room | x3796 |
| Tech Room | x2443 |
| MT6-1 Key Tree (west) | x2134 |
| MCenter (ALL) | x3726 |
| MCenter (ALL) | x2135 |
Other numbers
---