The facility enclosures are equipped with various network cameras. Users can see into the enclosure and monitor their apparatus even when the beam is running. These cameras can be accessed from onsite or via the Virtual Private Network (VPN) when not onsite. Note that the onsite wireless network "guest" will not work. You must be connected to the wireless "fgz" network to see the cameras. (The "eduroam" wireless network may not work – not sure.)
Note, the viewer/admin links for ftbf cameras 0-4 use Java applets and will not work in Chrome or Edge web browsers. In many cases, the "simple viewer" links will suffice for users of Chrome, Firefox, MS Edge (2020), and Safari although with Firefox, users will have to do a refresh after using the simple pan-tilt-zoom buttons. Simple viewer may not work with Internet Explorer or MS Edge from 2019 or before. See below for changes needed to browser settings for older FTBF cameras.
Multi-camera simple viewers are also available. In the multi-camera viewer, click on an image to go to single camera view.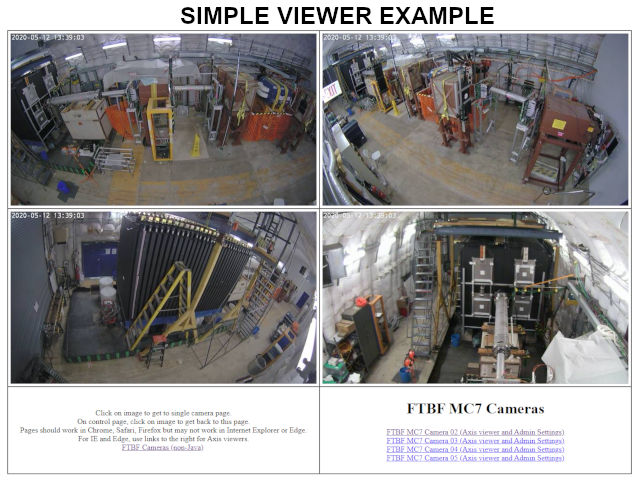 Browser Settings
Starting the end of January, 2021, Chromium based browsers (Chrome, Edge, and others), are restrictive of the the older cameras in FTBF since the web servers on these cameras do not support https. (MC7 and ITA cameras do support https.)
"Automatically upgrade mixed content. Secure pages delivered over HTTPS may contain references images that are served over non-secure HTTP. To improve privacy and security in Microsoft Edge 88, those images will be retrieved over HTTPS instead. If the image is not available over HTTPS, it will not be loaded."

To get around this issue, you must change settings on Chrome or Edge to allow mixed content from fnal.gov cameras.

Chrome
Settings
Privacy and security
Site Settings
Additional content settings
Insecure content
Under Allow, click ADD
Add the site [*.]fnal.gov
Microsoft Edge
Settings
Cookies and site permissions
Insecure content (under all permissions)
Under Allow, click ADD
Add the site [*.]fnal.gov
Other Issues
A few other problems displaying the older cameras have been solved by clearing browser cache.
Edge: Settings -> Privacy, search, and services -> Clear browsing data now
Chrome: More tools -> Clear browsing data

Back to top.










Updated March 31, 2022.